Welcome to All Gears
We repair and recondition manual gearboxes and differentials. Occasionally, we supply parts only. Please take a look at our FAQ page for more detailed information about the services we provide.
We have been in business since 2002 and are located in Worksop, Nottinghamshire. It is easy to find us either from junctions 30 or 31 of the M1, or from the A1.
Customers come to us from all over the UK, as well as Europe, the USA, Australia, New Zealand and Hong Kong. So don't hesitate to get in touch; we always try our best to help out every customer.
One of our specialities is being able to fully recondition BMW, Jaguar and GM Getrag gearboxes, which are classed as "not rebuildable" from the factory. This specialist knowledge also extends to Jaguar E-Type, Overdrive and Moss 'boxes. Please take a look at the "Specialised" part of our About Us page for more information.
Although we are specialised in the above gearboxes, we can rebuild and recondition just about any manual car or light commercial gearbox, or diff. This ranges from the everyday modern vehicles (Fiat, Vauxhall, Skoda, BMW, VW, Renault, Ford, etc.) to older, less common vehicles such as Morris Minor, Frog-Eyed Sprite, etc.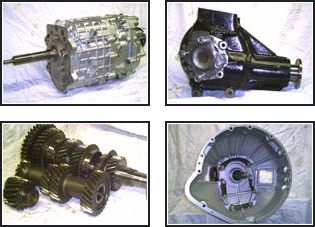 Feel free to browse our gallery to see examples of our work. We hope to hear from you soon!
Please Note - We would appreciate it if enquiries about automatic gearboxes were not made, as we ceased dealing with them in 2007. Thank you.